Author Archive: Editor
Dan Kimmel is owner and web designer at www.AnglerHosting.com. He also runs several outdoors, hunting and fishing websites like www.GreatLakesBass.com and www.GreatLakesIceFishing.com.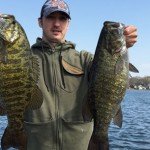 Drop Shot Denny's Bait & Tackle Wisconsin customer sent this picture of two Giant smallmouth bass slayed by the Smallie Slayer Widow Maker tube bait!